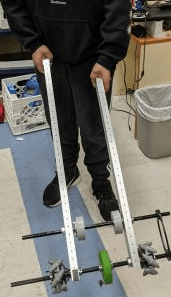 Our first full Saturday was a very busy day. We created a prototype for the ball intake and worked on the chassis modification (C channel shape).
We created a proof of concept in CAD for the ball intake, and a elevator for the switch.
We obtained additional colored vinyl to build our "switch color wheel".
CAD drawings were created for the shield generator to plan how to build it out of wood and metal (for our regal eagle rampage). Left over 2×4 were cut for the structure.
We have a large order for our lumber arriving tomorrow.